Are you searching for Neurosurgeon Wirginia Maixner Biography, Lifestyle, Net worth, salary, and success story? If yes, then you're in the right spot!
If you're new here, this post is the third episode of our InspireMe series. This program discusses the lifestyle and biography of inspiring Medics, and also explains key lessons to be used to improve our lives!
Many people allow other people's opinions to limit them. Where the world points out impossibilities, here comes Wirginia Maixner to prove them wrong.
She's a winner, not only a successful doctor but an epitome of courage, talent, and determination to change the situation of things around.
Join me in this episode, as I unveil the biography of the talented Neurosurgeon, Wirginia Maixner. We'll discuss how she started, her early life, education, achievements, before diving into the lessons to take home from this post.
All good, right? Let's go!
Who is Neurosurgeon Wirginia Maixner?
Wirginia Maixner is a Neurosurgeon from Australia who's presently the director of Neurosurgery at the Royal children's hospital in Melbourne, Australia.
The talented doctor came into the spotlight after carrying out the first-ever auditory brainstem implant on a child and successfully separating conjoined twins.  
Early Life of Wirginia Maixner
Maixner grew up with her parents in Sydney's northern beaches. Her mother happened to be a public servant while her father was a window dresser.
Maixner's decision to study Medicine was spurred by her aunt, the first female flying doctor in Australia. She was also full of delight to get into the health sector because of the television show, the Marcus Welby MD, which she enjoyed as a child.
Maixner was very enthusiastic about sewing. This made her naively think that getting into Surgery might be the perfect way to combine her passion with a career.
Breaking the Jinx 
When she ventured into her general surgical training, she encountered a registrar in Neurosurgery, which hinted that this specialty is the perfect boat she was willing to sail. She then made the decision, at 25 years old at that time, to venture into pediatric Surgery after a rotation at the children's hospital in Sydney. Virginia.
Furthermore, Wirginia spent two years training in Canada and France. She applied to Pediatric surgery training in Necker-Enfants malades hospital in Paris, which was performed five times better than Melbourne was at pediatric Neurosurgery.
Fortunately, she got into the program, making her the third woman ever to get into the Pediatric neurosurgery specialty. With this, Maixner broke the jinx about male dominance in the medical profession.
She says…
"Surgery at that point in time was a challenging profession for women. It was mainly dominated by males. Neurosurgery was one of the most difficult specialtis, I think… Neurosurgery was still in its growing stages and Pediatric Neurosurgery had not yet been established in some ways; it wasn't' popular."
Wirginia also trained at the ROyal children's hospital, where she worked with amazing people who pledged her to return after training. And that's just what she did.
After two years away, she went back to the hospital at the end of 1998. After some years doing both adult and pediatric Neurosurgery at RCH, It didn't take long for her talent to shine as she was appointed the department's head. This feat was spectacular as she broke a record, being the first full-time pediatric neurosurgeon in her country, Australia.
Surgeries that brought Neurosurgeon Wirginia Maixner to Spotlight
Often, successful people don't know they'll become popular until certain events; that's the same with Wirginia Maixner.
She happened to be a normal doctor, but her doggedness and determination to do things others considered impossible had brought her to worldwide recognition.
Here are some of the surgeries that made her known as a talented Pediatric neurosurgeon:
Separating Trishna and Krishna, the Conjoined twins from Bangladeshi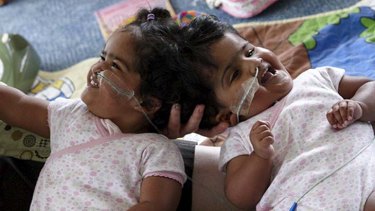 In November 2009, the fate of Trishna and Krishna depended on Wirginia Maixner's hands. These two kids are cojoined twins who were saved from a Bangladeshi orphanage and given to Melbourne.
Being the hospital's director of pediatric neurosurgery, Maixner led a team of 16 neurosurgeons, plastic surgeons, nurses, anesthetists, and other medical staff through the 32-hour groundbreaking Surgery.
Did you hear that? 32 hours! That's a day plus 8 hours. This operation happened to be one of the longest time ever working on a patient.
Normally, the separation of conjoined twins has been a norm, but turning out successful is where the deal lies. In most cases, it's either one of the twins dies, and the other gets to live, or they both suffer from a medical complication.
But in Wirginia Maixner, it was different. With the help of her team, this talented neurosurgeon did the work by separating the conjoined twins without any complications.
The Process
However, Surgery wasn't the only one that was carried out. There have been series of other ones in January, February, March, May, October to separate the shared blood vessels. Finally, November, which was the final one, 'll determine if the twins get to live.
She says, "Every moment after separating some major veins in the twins, had me thinking "oh God, will they wake up?" or will they be able to move? But after you watch them wake and moving…you might think its all over …until when it's time for the next step. Amd the same uncertainity spring up".
After separating the veins, Maixner and her team separated the girls' skull to remove the bone. This process increased the risks as their brains will be exposed.
However, plastic surgeons devised a means to cover the organ with excess skin produced months ago by tissue expanders slot in toddler's heads.
After they survived the high-risk surgeries, a bigger threat to the twins emerged, which was the fact that they might get an infection during the final separating step.
At that point, there were large numbers of medical staff in the operating theatre plus the hospital's camera and documentary team.
This increased the risk more than ever because there was a higher chance of germs, dust, and other particles causing infection to the twins.
But thanks to God, they managed to succeed in all operations and gave Trishna and Krishna a chance to live their separate lives!
First Auditory Brainstem Implant
Wirginia Maixner was the genius who led the first auditory brainstem implant in 2006 on a three-year-old girl who had a rare genetic condition.
She worked hard using her medical knowledge, surgical skills, and innovative ideas to stop seizures in the young lad. Maixner had reported to the media that this operation was as cumbersome as open-heart Surgery.
Wirginia Maixner Career
Here are some of the things this genius has achieved in her medical career:
2001: She became the youngest director of the Royal children's hospital neurosurgery unit. She was also the first female head of the unit at the children's hospital.
2001-2004: Wirginia Maixner participated in the Victorian surgical consultative council, a unique purpose council that was brought up by John Thwaites, the minister of health at that time. This council's goal is to investigate, study, and give reports on potentially avoidable surgical deaths in Victoria and improve the country's overall surgery health.
2009: Maixner headed a presentation at the XIV world congress of Neurological Surgery in Boston, Massachusetts as a faculty member.
Neurosurgeon Wirginia Maixner Net Worth
The money will come, especially when you provide great value to society. Wirginia Maixner is worth $7 million, which she made from her career as a Neurosurgeon.
Neurosurgeon Wirginia Maixner Contact Details
If you would like to contact Wirginia Maixner, here's her contact details.
Lessons From Wirginia Maixner
Embrace the Courage to Go after Impossibilities
If you want to be an anomaly, you've got to remove your thoughts from local limitations. Wirginia Maixner's story here is an inspiring one that should always teach us to go after things we want despite the challeneges
In her time, they weren't many female Neurosurgeons, she was discouraged countless times to opt-out, but she didn't. Instead, she wanted to prove to the world, to you, and I, that anything is possible!
So from now, dream big! Don't belittle your goals on someone else opinion. What's that thing that is considered an impossibility in the health sector? Oh, the cure to AIDS hasn't been found? We'll find it! There's not been a method to handle cancers effectively; we'll do it!
Cast off all your fears, and begin to think of possibilities only; that way, you can break out from the norm to become an outstanding success!
We've reached the end of this amazing episode. See you in the next one, and by the way, don't forget to dream big! In case you missed out, catch up with the previous episodes: